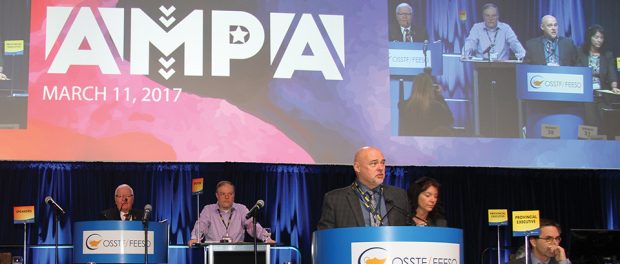 The 98th Annual Meeting of the Provincial Assembly (AMPA) was held in Toronto from March 11 to 13. Over 900 participants attended the annual meeting, including delegates and alternates from all OSSTF/FEESO Districts.
The meeting began with a performance of O Canada by a group of young singers from the Royal Conservatory of Music (District 34). The anthem was followed by a traditional song to welcome all delegates, performed by three First Nations members of OSSTF/FEESO.
Paul Elliott delivered his final opening address as President of OSSTF/FEESO. Elliott offered a retrospective look at events of the past year, ranging from political change in the United States and elsewhere to the ongoing work that OSSTF/FEESO undertakes internationally. He also highlighted the Federation's participation in the Changing Workplaces Review and the impact of recent victories for members, both at the bargaining table and in the courts.
Elliott also spoke in detail about the increasingly alarming issue of violence in our schools and workplaces. "Education workers now have one of the highest rates of lost time due to injuries of any occupation in the province," said Elliott. He emphasized the importance of the work being undertaken by OSSTF/FEESO's Violence in the Workplace Task Force, and proclaimed workplace violence to be a key priority for the Federation over the coming months.
The election of the new Provincial Executive was one of many highlights at AMPA 2017. Vice-President Harvey Bischof was elected as the new OSSTF/FEESO President, commencing July 1. Full elections results can be seen on page 5.
Minister of Education Mitzie Hunter addressed delegates on Sunday afternoon. She expressed her gratitude for the work that all education workers do on a daily basis for students, and fielded a number of questions from delegates on topics ranging from violence in the workplace to inadequate funding and the need for fixing school buildings across the province.
Other highlights from AMPA 2017 included the presentation of the Student Achievement Awards, the handing out of Provincial Awards to members in a variety of categories, and the welcoming of students from Faculties of Education from across the province.
One final highlight came from our guest speaker Lawrence Hill, author of The Illegal and The Book of Negroes. Hill took a moment in his presentation to give a shout-out to one of the winners of the Student Achievement Awards, and to highlight the importance of teaching writing and literature in our schools.