Paul Elliott receives Life Membership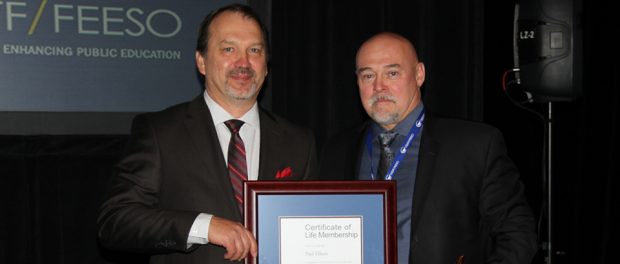 Paul Elliott, OSSTF/FEESO's 65th provincial President, received a Life Membership at the June Provincial Council meeting. The honour was presented by incoming President, Harvey Bischof. Paul has been giving his time and energy to OSSTF/FEESO since his second year of teaching, when he became a Branch President in District 5B, Rainy River. He was elected to the Provincial Executive as an Executive Officer in 2005, and then served as Vice President from 2007 until 2013, when he was elected President.
Paul has earned a reputation not just as a steadfast advocate for OSSTF/FEESO members, but for building strong relationships within the labour movement both across Canada and internationally. His final term as President ends June 30, but Paul will continue to serve OSSTF/FEESO even in retirement, serving as the Federation's representative on the OMERS Board of Directors.
OSSTF/FEESO is extremely grateful for Paul's many years of dedicated service, and we wish him all the best.