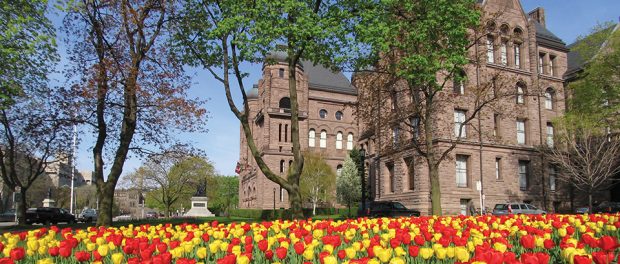 This is the first of a series of articles examining the candidates running for the office of Premier.
The Ontario provincial election is now less than a year away, and Ontarians are beginning to focus on their choice for the next provincial parliament. The Liberals will have been in power for 15 years by the time of the election, and with a leader, Kathleen Wynne, whose approval ratings have dipped near single digits, it would seem the time is ripe for a new party and person to assume the helm of the next government.
The most traditional pattern for Ontarians since the Second World War has been to shift from the Progressive Conservatives to the Liberals and then back again. Only once has the Ontario electorate strayed from that paradigm: when Bob Rae's NDP government was elected in 1990 and served until 1995.
Based on this history, it would seem that PC Leader Patrick Brown is well-positioned to become the next Premier of Ontario. But are he and his party ready to form the next government? Prior to assuming the Ontario PC leadership, Brown was a non-descript ten-year Conservative MP from Barrie in the Stephen Harper federal government. Harper never gave Brown much responsibility, either as a Cabinet Minister or Parliamentary Secretary, and Brown's only noteworthy actions were his involvement in social conservative causes such as opposing abortion and same-sex marriage.
When he decided to seek the Ontario PC Leadership, Brown courted that same social conservative crowd and also reached out to many of Ontario's newcomers and their communities. The backing of those two groups helped propel Brown to an overwhelming victory over the more experienced and centrist candidate, MPP Christine Elliott.
Since then, Brown has continued his aggressive outreach to sections of Ontario's ethnic communities but has distanced himself from social conservatives, proudly declaring himself a supporter of same-sex marriage, a woman's right to choose and sex education. The same social conservatives who once supported him are now firmly opposed to Brown. At the same time, Brown has other challenges in keeping his party united. His call for carbon pricing to deal with climate change is vigorously opposed by many PC members. Internal bickering and chicanery at nomination meetings has led some party members, including prominent Conservatives and various candidates from those same ethnic communities Brown has been aggressively courting, to question his commitment to an open and transparent candidate nomination process.
Despite these controversies, Brown's PC party still leads public opinion polls. Ontarians generally don't pay significant attention to provincial politics between elections, but that will change as the vote looms closer, and Brown will soon have to reveal an election platform that will convince Ontarians that he is worthy of their support. The upcoming PC annual general meeting in late November will provide Brown a pre-election opportunity to showcase his policies and reassure Ontarians that he is ready for power. If he continues to be beset by internal party politics and is unable to articulate a clear policy vision, Ontarians who are determined to oust Kathleen Wynne and the Liberals will have to consider Andrea Horwath and the NDP as their only viable alternative. Failing that, Wynne and the Liberals may be able to squeak in another term.