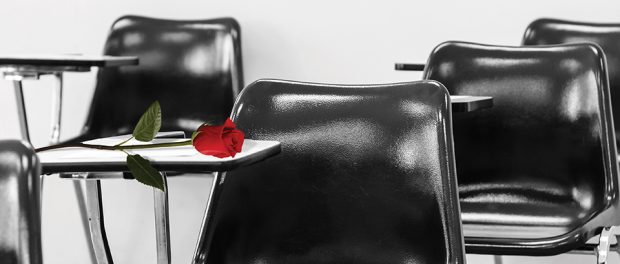 You may notice that this year's December 6 commemorative poster, an initiative of OSSTF/FEESO's Provincial Status of Women Committee, has a different look than it has had in the past. Instead of the icon of the rose in isolation, this year's poster features a photograph of an empty desk, with a rose placed on it. The image is realistic; some may even say it is cold, or stark.
This year, the Status of Women Committee felt it was time to shift our dialogue around December 6, 1989. Time continues to distance us from the events of that day, and it becomes easy to look at the things women have accomplished in Canada since then, without asking ourselves what the lessons are that we can continue to take away from the tragedy. Recently, the hashtag #metoo circulated widely on social media, with women sharing experiences of sexual assault, violence, and harassment. Clearly, we cannot absolve ourselves of the misogyny that existed in 1989. In the past, we have said, "we remember." This year, instead, we compel members of OSSTF/FEESO to "never forget."
Never forget that women face real threats every day, on public transit, in workplaces, in schools, online, and at home. Never forget that the world is a particularly unsafe place for women of colour, trans women, and women of First Nations, Métis and Inuit heritage. Never forget that, in 2017, our communities are filled with women who posted "Me, Too." Never forget that Geneviève Bergeron, Hélène Colgan, Nathalie Croteau, Barbara Daigneault, Anne-Marie Edward, Maud Haviernick, Maryse Laganière, Maryse Leclair, Anne-Marie Lemay, Sonia Pelletier, Michèle Richard, Annie St-Arneault, Annie Turcotte and Barbara Klucznik-Widajewicz were murdered because they were women. Never forget that it's now up to us to honour their lives with action, and with change.
So, post this new, powerful poster in your worksites. Talk with your colleagues and students. Call out injustice. Support your sisters. Never forget.