OPSEU College Faculty to launch Charter challenge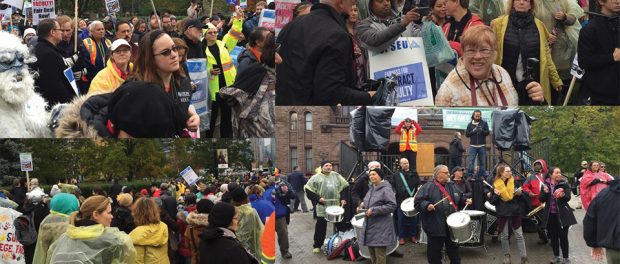 The Ontario government has once again resorted to back-to-work legislation to end a strike in the province's education sector. On Sunday, November 19, after sitting through the weekend, the Liberal majority, supported by the Progressive Conservatives, passed legislation ending a five-week strike by Ontario Public Service Employees Union (OPSEU) College Faculty members. Classes at the province's 24 colleges resumed two days later.
The government's move to legislate an end to the strike came after the College Employer Council forced a vote on its "final offer" to the union. The forced vote, which took place on November 16, is a one-time option under Ontario's Colleges Collective Bargaining Act. The union's members overwhelmingly rejected the offer, with 86 per cent voting against it.
The legislation called for the union and the College Employer Council to attempt to reach a new collective agreement through a mediation/arbitration process.
Just days after the legislation was passed, OPSEU announced that it will launch a challenge under the Canadian Charter of Rights and Freedoms, Section 2 (d). In announcing the challenge, OPSEU President Warren (Smokey) Thomas said, "In the case of the colleges, the provincial government had the power to direct the employer to make the moves necessary to bargain a settlement. The government chose legislation instead. They trampled on the right to collective bargaining when they clearly had
other choices."
The mediation/arbitration process imposed by the back-to-work legislation unfolded over several days in mid-December and resulted in an arbitrator's decision on December 20. OPSEU said the decision provided improved provisions for staffing, seniority and academic freedom.
Beyond the outcome of mediation/arbitration and the eventual resolution of the Charter challenge, the strike itself was significant in that it focused largely on the colleges' increasing reliance on short-term, part-time faculty appointments. More than 70 per cent of college faculty, in fact, rely on those short-term, part-time jobs. For many, the union's strong show of solidarity throughout the five-week strike represents a positive turning-point in the movement against precarious work.