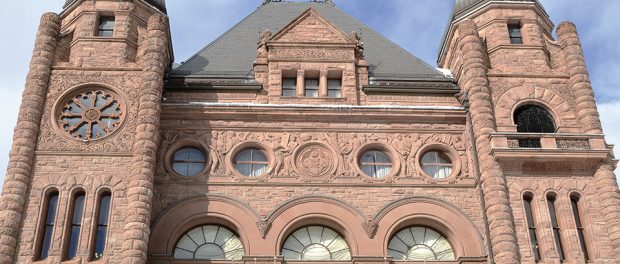 Ontario PCs Unveil 2018 Election Platform
More than six months before the scheduled Ontario Provincial Election on June 7, 2018, Progressive Conservative Leader Patrick Brown surprisingly released his party's full election platform, entitled "People's Guarantee," at his party's policy convention in late November.
With this early release, it is obvious that he is doing everything possible to counter the claim that he is an empty vessel devoid of any political convictions.
Anchoring Brown's plan is his pledge that if he doesn't fulfil the five core promises articulated in the platform, he will not seek a second electoral term. His five main planks include: a 22.5 per cent income tax cut for the middle class; a 75 per cent refund of child care expenses; a further 12 per cent cut in hydro bills; a ten-year, $1.9-billion commitment to mental health; and a new Trust, Integrity and Accountability Act.
Brown's glossy 78-page policy handbook contains promises for almost every potential voting bloc in Ontario. Notably, Brown makes few tangible promises to the public education sector. Brown's public education promises include:
Moratorium on all school closures
Expand financial literacy pilot program to all secondary schools
Take concrete steps to get math scores back on track
Appoint a task force of former teaching professionals to learn from the province's best teachers and better inform future curriculum updates
Install exterior cameras on school buses (already part of proposed Liberal legislation)
Allow disabled and autistic students to bring their service animals to school
Support the establishment of a stand-alone French-language university
Envelope Special Education funding to make sure it is spent on Special Education
Importantly, Brown makes no mention of a review of the Funding Formula or a review of the School Boards Collective Bargaining Act. His lack of financial commitments to improve the publicly-funded education system is glaring, but at the same time he does not discuss any drastic, negative impacts on classroom learning. Brown is certainly hoping that education workers will see his lack of overtly negative proposals as a positive contrast to previous, highly-publicized PC proposals such as Tim Hudak's 100,000 public-sector job cuts or John Tory's faith-based school funding.
It is important to note that Brown also commits to $6 billion in spending cuts. With education being the second largest expenditure of the provincial treasury, he will be pressed to explain how a spending cut that substantial would not affect public education.
With the Liberals and NDP set to release their policy platforms, and with a desire for change in the political headwinds, the next seven months promise to create an exciting political climate. With this platform, Brown has certainly committed himself to the political centre-right, and that may be enough to sway some voters who are tired of Liberal Premier Kathleen Wynne's agenda. Now, public education workers will be looking to the NDP and its agenda to see if Andrea Horwath can offer a strong, countervailing argument to Brown as the proper agent of change.