An election is coming and it's time to pay attention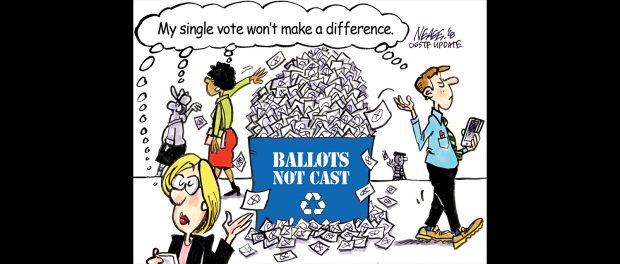 In Ontario's last provincial election, in 2014, voter turnout was just 52.1 per cent. That means that almost half of the eligible voters in the province simply didn't bother to vote. It means that more than 4.4 million Ontarians were perfectly okay with letting others decide what kind of government they would be saddled with in the following years.
It is difficult to imagine any reasonable excuse for so many citizens to be so disengaged from the democratic process that they would not even undertake the simple act of casting a ballot. We do not need to be political junkies to understand that the kind of government we elect impacts countless aspects of our lives. Everything from the quality of health care we receive to the state of public infrastructure to the kinds of regulations that govern our transactions as consumers—all of these things and many more are affected by the policies of the government at Queen's Park.
For those of us who work in public education, at any level, there is even more reason to be politically engaged. Our experience has shown us, over and over again, that the government we elect has a direct impact on our daily working lives. From the kinds of challenges we face when it comes to bargaining new collective agreements to the curriculum we work with to the availability of resources for our students with special needs—all of these are affected by the policies and the disposition of the provincial government.
That's why, leading up to every provincial election, OSSTF/FEESO develops and releases our own election platform, highlighting the most significant education-related issues that we believe the next Ontario government should be prepared to address. The platform we've released in advance of this June's election is called "Public Education—It's For Everyone," and it identifies seven key issues related to education at all levels, from early learning through to post-secondary. It lays out the reasons that those issues are important to OSSTF/FEESO members, and it specifies clear actions that we believe the next government should take to improve public education in Ontario.
Every OSSTF/FEESO member should take the time to read the platform and understand the issues it raises. And, as the election approaches, we need to pay attention. We need to pay attention to what the parties and local candidates are saying about those issues, or whether they're addressing those issues at all. We need to use the platform as a catalyst and a guide for dialogue with our co-workers and our neighbours, and maybe even with the candidates in our ridings.
At the very least, we need to learn about the issues and make a commitment to ourselves, to our colleagues and to our communities that we will vote in the June provincial election, and that our vote will reflect our commitment to quality public education.
An abbreviated version of "Public Education—It's For Everyone" is printed on the front page of this issue of Update. The full platform is available on the Federation website (osstf.on.ca).