Student Achievement Awards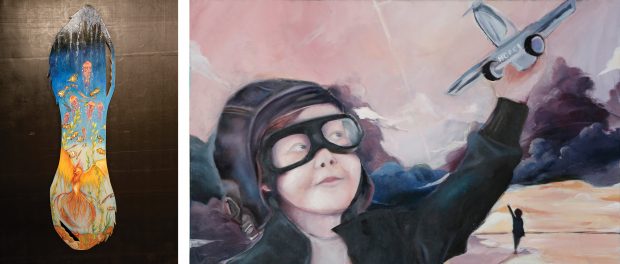 This year's theme, "What's Your Super Power," motivated students to submit some outstanding works of prose, poetry, painting and video. Provincial Office was overwhelmed with submissions from the most remote locales and from busy metropolitan centers across Ontario. Many schools used the Student Achievement Awards, in honour of Marion Drysdale, as a tool in their classrooms to engage all students.
The nine award winners will be officially announced during a ceremony at AMPA that will include the traditional video honouring their work. The winners will be presented with awards of $1000 each. For a sneak peek at the provincial winners, please read below.
In the Prose and Poetry Division, Ella Hancock of E.L. Crossley in Pelham was the winner of the Intermediate Academic 9–10 category, with the poem Channel. This poem revealed the inundation of knowledge and events, depraved and damaging, that are thrown at us every day and with each change of the channel. Ella's poem encourages us to choose compassion and act with support when others go through such tragic events.
Hannah McKay of Hammarskjold High School in Thunder Bay won the Intermediate 9–10 Applied/Essential category with her poem, Here. Hannah shares with us an intimate side of her struggle as seen through her poetry. Her words are eloquent and mature and you want to savour them in your mouth because of their beauty rather than say them and lose them forever.
Taylor Verhegghe, a student at Westminster Secondary School in London, won in the Senior 11–12 University category for her poem Ordinarily Extraordinary. A beautiful, well written poem about finding extraordinary beauty in things we see every day. From the crunch of fall leaves to the comforting smell of fresh laundry, Taylor uses words to illustrate for us her super power of seeing the 'ordinary' in a completely different light.
In the 11–12 College/Workplace category, Bailee Harvie, of Almaguin Highlands SS in South River, takes us on a poetic journey through her life as a young woman living with Autism Spectrum Disorder. Bailee shows us that through compassion, education and perseverance, students can be successful and can learn to advocate for themselves and for others—if only we give them the guidance, opportunity and grace to do so.
Joannie Patterson, of ESC Renaissance in Aurora, won the category of French Prose and Poetry 9-10, for her poem, L'amour d'une etoile—The Love of a Star.  In her poem, she speaks of a little sister who desperately needed a heart transplant and an older sister who died to give her the heart she needed.  It is a poignant story of love and loss and a loving tribute to her sister who is her star above, watching over her and the reason she has lived so fully.
In the category of French Prose and Poetry 11-12, the winner Christina Mohan from Harold M. Brathwaite in Brampton moved us with her poem Sauve par ton sourire—Saved by Your Smile.  The poem speaks of believing that you have a superpower that can pull you from the deepest depths of despair and wanting to have a second chance at a worthwhile life.
Sarah Hancock, of Nottawasaga Pines SS in Angus, stunned us with her incredible piece, Resiliency Glows. Depicting a phoenix rising, it catipulted her to the top of the Visual Arts Intermediate 9–10 category. It was painted on a longboard to reach out to her peers to remind them that they can float above all the negativity that faces them through social media and bullying, and rise again, just like the phoenix.
Inam Rizvi, of Sir Winston Churchill SS in St. Catharines, was the winner of the Senior 11–12 Visual Arts category for her work entitled Flight. This incredible painting depicts a young Inam dreaming of flying in the sky. The dreamy palette of colours and the expression on her face allowed us to feel her youth and innocence, and hear the message of hope.
Finally, the winners of the Digital Arts 9–12 category was Becker Gagnon and Markus Luomala, of Geraldton Composite High School in Geraldton for their video, Bannock Dogs Save the World. Through humour, the two young men showed us that knowing how to cook, preparing a meal and feeding those in need was indeed a super power. With an underlying message that doing things for others and putting care into what you create really can be meaningful, their video is a clear winner.