180 attend CPAC Regional Meetings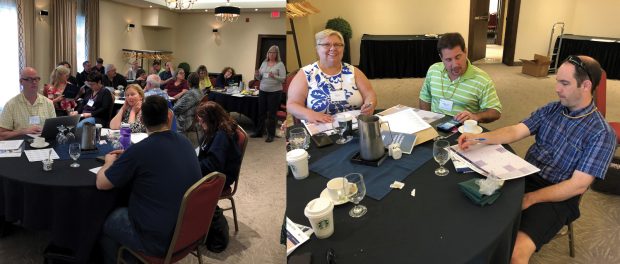 With provincial and municipal elections on the not so distant horizon, there was an undeniable mix of anxiousness and excitement as 180 OSSTF/FEESO local leaders and activists participated in the Communications and Political Action Committee (CPAC) Regional Meetings on May 4 and 5. Every District sent representatives to one of the five regional meeting held in London, Ottawa, Sudbury, Thunder Bay and Toronto. The primary focus was on digging deeper into OSSTF/FEESO's provincial election platform, Public Education—It's For Everyone, reviewing the Federation's election strategy, and planning local campaigns in Districts around the province. Some time was also spent planning for next fall's municipal elections, using the newly-created municipal and trustee elections resource Smarter Communities…Together.
Leaders left the meetings feeling empowered, energized, and ready to take on the task of encouraging all 60,000 OSSTF/FEESO members to engage in the democratic process and work to elect progressive governments, at both the provincial and municipal levels, on June 7 and October 22 respectively.
The 2018 Regionals provided an excellent balance of training and planning, and continued to build on Election Readiness Consultation meetings that were held in October and February. Led by CPAC members and the Communications/Political Action Department staff, leaders focused on developing tools, tips, strategies and action plans to take back to their Districts and Bargaining Units.
It was evident at the regional meetings that local actions are well underway, with an eye to ensuring that members are aware and understand the importance of the issues OSSTF/FEESO has identified in our election platform. It was also clear that local leaders have a strong understanding of the unique dynamics at play in each of the electoral districts in their respective areas. Cohesive and strategic action plans are now being implemented to encourage the election of candidates whose policies and intentions align most closely with OSSTF/FEESO's.
Although each District and/or Bargaining Unit may be at various stages of their local election readiness campaign, it is clear that leaders are focused on three things: motivating members to get involved and vote; working with allies to elect progressive government officials at all levels; and building public support for public education in Ontario. With member engagement events such as "Pints and Politics" and "Paint and Politics," or with social media campaigns like #4hours4publicED, local leaders are attempting to ensure that every member, from the activist to the irregular voter, does whatever they can to protect and enhance public education in Ontario.
On June 7 and October 22, be sure to get out and vote—because as President Harvey Bischof reminds us all, "if leaders and members fail to engage in the democratic process and participate in the election of [the] government, we resign ourselves to letting others decide our future."