OSSTF/FEESO awards of recognition for members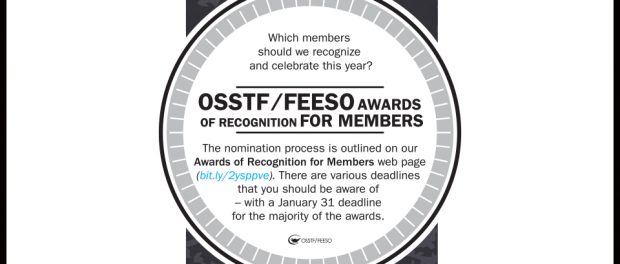 Which members should we recognize and celebrate this year?
The nomination process is outlined on our Awards of Recognition for Members web page (bit.ly/2ysppve). There are various deadlines that you should be aware of—with a January 31 deadline for the majority of the awards.
André Lécuyer Award
Award of Merit
Bob Brooks Award
Comité des services en langue française Award
Communication Award
Environmental Award
Honorary Membership
James Forster Human Rights Award
Jennifer MacLean Health and Safety Award
John McNeil Award
Kelly Ann McKenzie Award
Nancy Warrener Award
Norm Snyder Award
Political Action Award in honour of Wendell Fulton and Larry French
Provincial Executive Award
Liz Barkley Status of Women Award