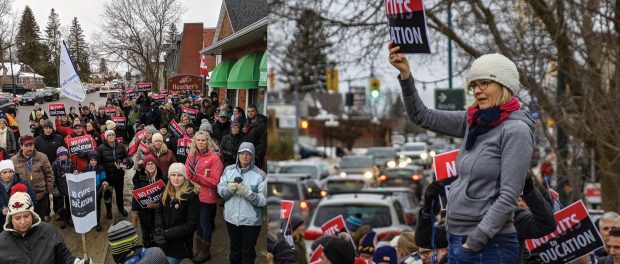 On February 7, OSSTF/FEESO members held rallies outside the offices of both government and opposition MPPs across the province to warn against cuts to education in the upcoming provincial budget, which will be presented at Queen's Park in the spring. In many districts, local leaders were able to arrange for meetings with their MPPs to coincide with the rallies, ensuring that the message could be delivered in person.
In many locations, OSSTF/FEESO members were joined by members of our education affiliates and other unions to reinforce the message that any cuts to frontline staffing in Ontario's schools or universities will have a palpable negative impact for students.
The rallies also come on the heels of Ministry of Education announcements that call into question the government's commitment to appropriate class sizes and to the continuation of the province's full day Kindergarten program in its current. Earlier the Ministry of Training, Colleges and Universities announced changes to student tuition rates and to the OSAP program that will result in the removal of tens of millions of dollars in funding for universities where support staff is represented by OSSTF/FEESO. Those announcements were certainly on the minds of OSSTF/FEESO members and others attending the rallies.
The date for the provincial budget has not yet been announced, but it is expected to be presented at Queen's Park sometime between late March and late April.