Student Achievement Awards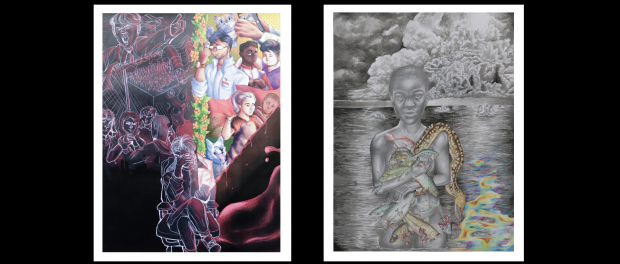 "Are we really 'Ahead by a Century'?" That is the question OSSTF/FEESO asked this year with our 2019 Student Achievement Awards. We received submissions from the most remote locales and from busy metropolitan centres across Ontario.
The nine award winners will be officially recognized at the Annual Meeting of the Provincial Assembly (AMPA) during a ceremony featuring the traditional video. The winners will be presented with awards of $1,000 each.
Here's a sneak peek at the provincial winners:
In the Prose and Poetry Division, Zilale Tursun, of A.N. Myer Secondary School in Niagara Falls, was the winner of the Intermediate Academic 9-10 category, with a touching story called Just Wait. This story highlights the human rights struggles that some students go through to find their own identity. Zilale's story encourages us to be compassionate and highlights the need for all of us to help understand each other's difference.
Harris Annett of Lambton Central Collegiate and Vocation School in Petrolia claimed the Intermediate 9–10 Applied/Essential category with his depiction of machinery on The Century Farm. Harris showed us how innovation and technology are everywhere, even in the century old family farms scattered across Ontario.
Catherine Cadigan, a student at I.E. Weldon Secondary School in Lindsay, won in the Senior 11–12 University category for her prose piece, Starting at the Top. Catherine takes us on a journey through the memories with which she is flooded as she listens to the school valedictorian during her graduation ceremony.
In the 11–12 College/Workplace category, Caitlin Chiblow, of W.C. Eaket Secondary School in Blind River, highlights the atrocities of residential schools in her piece entitled Making Sense of the Past. Her work questions how people failed to see the suffering of Indigenous people as their children were taken away to residential schools.
Peyton Wither, of Eastwood Collegiate in Kitchener, won the category of French Prose and Poetry 9–10, for her poem, Je Suis la Terre—I am the Earth. The poem is about climate change and cautions us to take care of our mother earth because we are nothing without her.
The winner of the French Prose and Poetry 11–12 category, Alexandra Graham from Lambton Central Collegiate Vocational School in Petrolia, moved us with her prose Illusion d'avancement—The Illusion of Advancement. The piece speaks of ways in which social media can be deceptive, creating a false sense of togetherness, when really we are all solitary individuals sitting in front of a computer screen.
Lambton Central Collegiate and Vocational School in Petrolia is home to Emma Kelly, winner of the Intermediate 9–10 Visual Arts category whose art piece Forward in Reverse suggests that while we may have the illusion of moving forward, many world events are actually dragging us back into the past.
Bailey MacIver, a Centennial Secondary School student in Belleville, submitted a beautiful piece created with pencils. Winner of the Senior 11–12 Visual Arts category, The Dead Sea depicts a young person holding sea animals destroyed by our carelessness. Stark and foreboding, the piece suggests that it is the youth who will save us from our misdeeds.
Finally, the winner of the Digital Arts 9–12 category was Claire Tillapaugh, of Northern Collegiate Institute and Vocational School in Sarnia, for her video, Shoeless. This stunning look at residential schools captures the story of Indigenous families whose children were taken from them.