The 100th Annual Meeting of the Provincial Assembly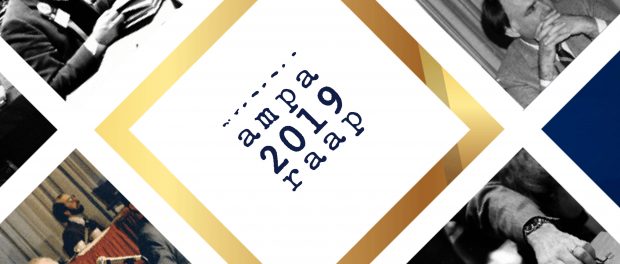 For the 100th time in the history of OSSTF/FEESO, delegates from across the province came together to attend the Annual Meeting of the Provincial Assembly (AMPA) from March 9–11 in Toronto. Over 1,000 delegates, Life Members, staff and guests attended this year's event, which featured several opportunities to recognize the 100th Anniversary of the Federation's founding in December, 1919.
In his opening address, Harvey Bischof reflected on the Federation's history, and how the lessons learned over the past century help to prepare us for the challenges that lie ahead, particularly the anticipated battles with the Ford government as we approach bargaining for members employed by school boards.
This was an election year for the Provincial Executive. Delegates cast their ballots using electronic voting for the first time and the results were as follows:
President—Harvey Bischof, District 13, Durham (acclaimed)
Vice Presidents—Paul Caccamo, District 6A, Thunder Bay and Karen Littlewood, District 17, Simcoe
Treasurer—Earl Burt, District 12 Toronto
Executive Officers—Martha Hradowy, District 9, Greater Essex; Malini Leahy, District 2, Algoma and Dave Warda, District 14, Kawartha Pine Ridge
Delegates also elected our representatives at the Ontario Federation of Teachers (OTF). Parker Robinson (Near North) was acclaimed as the OTF Table Officer, while Kim Appel (Ottawa-Carleton), Stephen Helleiner (Kawartha Pine Ridge), Hayssam Hulays (Toronto), Colin Matthew (Trillium Lakelands) and Kelly McCarthy (Halton) were elected as OTF Governors.
Maggie MacDonnell, the 2017 Global Teacher Prize winner, addressed delegates and spoke about her experiences as a teacher in a fly-in village called Salluit, located in northern Quebec, and about the challenges students in the community face. Maggie talked about the success she and the community have had in improving the learning and lives of students by setting up a local fitness centre, and developing an outdoor program.
There were opportunities to celebrate OSSTF/FEESO's 100th Anniversary during the business of the meeting with the showing of six historical vignettes, which are now available on the provincial website on our 100th Anniversary page. In addition, some of our past Presidents and General Secretaries of OSSTF/FEESO, along with many of our Life Members, were on hand at AMPA and recognized for their dedication to members.
Ontario NDP Leader Andrea Horwath made a brief appearance to bring greetings and to offer her words of congratulations to OSSTF/FEESO on our 100th year as a union. NDP Training, Colleges and Universities Critic Chris Glover also attended AMPA 2019 to meet with delegates from District 35, Universities to talk about their concerns over the Ford government's announced changes to post-secondary education funding and policy in January.
The 101st Annual Meeting of the Provincial Assembly will be next March in Toronto.