Sisters in Spirit (SIS) Vigils
October 4, 2019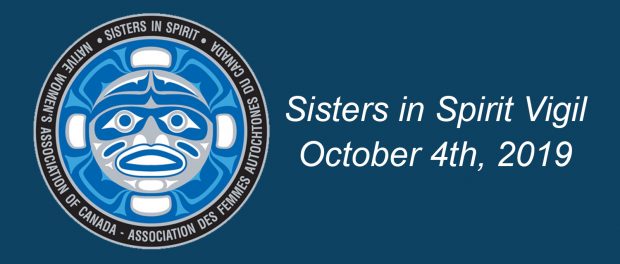 Each year, family members, Indigenous community members and concerned citizens gather for a vigil on October 4 to honour the memory of missing and murdered Indigenous women and girls. Vigils take place in many communities across Canada as well as internationally. These gatherings assist in raising awareness and providing support to families who have lost a loved one. This year marks the 15th year of the vigils.
OSSTF/FEESO, along with the Canadian Labour Congress and the Ontario Federation of Labour, have been long-time supporters of the vigils. The October 4 Sisters in Spirit Vigils are a growing movement for social change.  This year, with the final report of the Inquiry into Murdered and Missing Indigenous Women complete, supporters are asking that the recommendations of the Inquiry be implemented immediately, further recognizing the loss of many Indigenous women and girls.
According to the official inquiry website, 1273 testimonies have been provided by family members and survivors who have shared their truths; 340 artistic expressions have been shared and 1859 families and survivors have been registered since the inquiry began.
You can find the final report of the inquiry here:  You can also visit the Government of Canada Missing and Murdered Indigenous Women and Girls Page for information on aftercare and community gatherings, or if you are a Party with Standing.
OSSTF/FEESO is encouraging all members to attend their local vigils to remember and demand justice for missing and murdered Indigenous women and girls. The Native Women's Association of Canada (NWAC) produced a document to help friends and supporters responsibly engage in addressing the issue of Missing and Murdered Indigenous Women and Girls (MMIWG). In addition to fact sheets on MMIWG and the root causes of violence against Indigenous women and girls, the NWAC Community Resource Guide contains useful tools for getting involved and making your SIS Vigil a success. Through the guide, members can obtain the information they need to know about the SIS Vigils so that they can best deliver the important message of this community-based project and participate more fully. OSSTF/FEESO asks Bargaining Unit Presidents to share these links with members to encourage participation in events planned for October 4. A vigil can take many forms, from a moment of silence to a rally, to a community feast. All that is important is that you take some time on or around October 4 to mark the day.
To register your vigil or download the NWAC Community Resource Guide.
For more information, contact Tracey Marshall via email at tracey.marshall@osstf.ca or at Provincial Office.