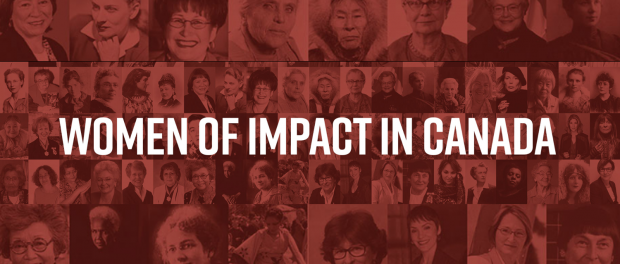 #MakeAnImpact is the theme for Women's History Month during October 2019, honouring the women and girls who are making an impact and furthering rights of women in Canada and around the world.
Women and girls are making an impact economically by starting their own businesses and investing in women in other countries. They impact their communities by supporting and femtoring in local girls' organizations. Women politicians, researchers and artists are making a huge impact in their communities, standing up for the rights of others and changing the shape of society. This year to celebrate their achievements, Status of Women Canada has created an online gallery to bring attention to and recognize more than 100 women and girls who have most definitely made an impact.
Women of Impact in Canada looks at those women and their achievement through photos and biographies and is an exceptional educational resource, "an introduction to the lives of these remarkable women, and a starting point for further discovery."
From women in STEM, the Arts, Politics, Human Rights and Trailblazers, you will be inspired by the 100 women and girls who have made an impact. With the online gallery's interactive map and timelines, along with a Learning Toolkit which you can use in your classrooms, you can challenge your students to discover how they can #MakeAnImpact in their communities and in the lives of those around them.