Toward 2022 and Beyond: Protecting Our Future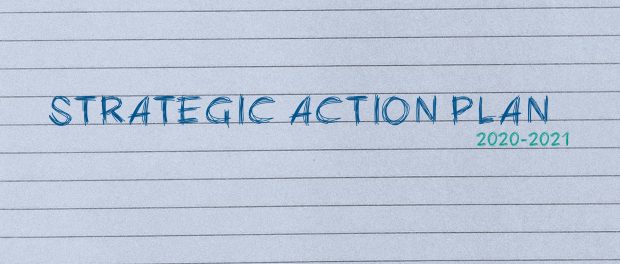 OSSTF/FEESO Vice Presidents Paul Caccamo and Karen Littlewood have assembled a Strategic Action Plan for presentation and endorsement at the Annual Meeting of the Provincial Assembly (AMPA) 2020. Below are excerpts from the report.
The 2019–2020 Strategic Action Plan, Doing Better: How to Maximize Best Governance Practices was very ambitious. Its overall goal was to optimize the day-to-day services to members and Bargaining Units. Autonomy and independence for Districts and Bargaining Units is still paramount. At the same time, we must focus on providing adequate guidance
and support.
This plan, Toward 2022 and Beyond: Protecting Our Future, builds on that momentum but also serves to prepare us for what is to come, known and unknown, and preserve our viability as education workers and a union. By definition, a Strategic Action Plan serves to ensure an organization's vision is made concrete and describes the strategies to meet its objectives. This plan adds a high level of security and confidence for our Districts and Bargaining Units but also ensures our next government will value public education and its workers.
Programs continuing from 2019–2020
Bargaining Unit/District governance
The work has begun to review District and Bargaining Unit constitutions. Constitutions will be divided up over three years with an estimated date of completion of June 2022. Along with that, checklists will be created for locals to use in planning for AGMs as well as providing support for new leaders going forward.
Bargaining Unit executive meetings and record keeping
Support for best practices provided by Field Secretaries is ongoing. Workshops will have been reviewed this year and webinars for online record keeping/retention and effective meetings are being developed. Estimated date of completion is June 2023 with ongoing support for best practices as well as the investigation of the use of the provincial database for this record keeping.
Financial accountability
To date, seven Districts have been visited to provide assistance, which has included six financial audits. Recommendations are provided each time to assist the local treasurer and office manager/administrator in improving the processes related to bookkeeping, financial reporting and the safeguarding of assets. In the coming months, plans are underway for visiting numerous other Districts. The assistance to Districts and Bargaining Units has included not only procedures but also the development of resources. It quickly became evident that assistance was required in the reconciliation of bank accounts and a template to assist has been developed.

Other 2019–2020 programs continuing include:
Local Staff and Elected Officials' Working Conditions
Direct Digital Communications to Members
Grievance Arbitration Model
Mental Health First Aid (MHFA)
New programs for 2020–2021
Towards 2022—Building for an Education-Friendly Government and Official OppositionToward 2022 and beyond: Protecting our future
Provincial, municipal and school board elections are always important but the ones scheduled for 2022 promise to be crucial in safeguarding Ontario's publicly-funded education system.
OSSTF/FEESO provides a constant and on-going safeguard against policies that are detrimental to public education. We resist, protect and defend against these regressive policies. In many ways, the next election will provide a real test for the future of the publicly-funded education system. Recent events have confirmed that OSSTF/FEESO has positioned itself to provide an effective counter-weight to these types of regressive policies.
As the 2022 provincial, municipal and school board elections approach, it is imperative that workers and supporters of the publicly-funded system work in concert to ensure that the next Provincial Parliament, municipal councils and school boards be populated by elected representatives and political parties that advocate for the best interests of students.
In pursuing this goal, OSSTF/FEESO's Strategic Action Plan must centre on member mobilization. In achieving that goal, Districts, Bargaining Units and Provincial Office must work in concert to provide all the tools necessary for an effective political presence leading up to, during and after the next elections.
District/Bargaining Unit IT environments
In conjunction with the Direct Digital Communications to Members and Grievance/Arbitration Module and Member Relations Tracking initiatives from the 2019–2020 Strategic Action Plan, it is incumbent upon us to recognize that inconsistencies exist in the security practices and the protection of data within our District and Bargaining Unit IT environments.
Our local offices would be provided with a baseline level of functionality, an acceptable level of protection for OSSTF/FEESO data and extended technical expertise. Note that it does not intend to provide a solution for every technology solution used. For example, desktop support, internet connectivity, telephone and fax services are outside of the scope of services provided.
This multi-year project will require further investigation and solution engineering in the initial year. We expect that field testing would also occur in a few local offices. In subsequent years, the solution would be offered to all local offices and implemented on a priority basis. If there is wide acceptance additional IT support staff could be required in a future year.