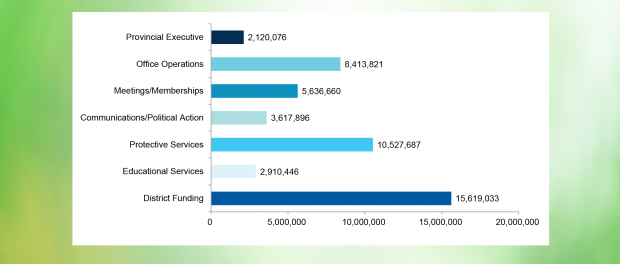 DISTRICT FUNDING $15,619,033     32.0%
District Funding Master rebates, PD (including workplace representative training and new member workshops), Union Training, Inter-district Meetings, Supplemental Time Release for Small Bargaining Units, Involving the Not Yet Engaged, Community Outreach, Special Political Action Programs, District Coalitions, Labour College, Mapping and Mobilization, District Environmental Funding, Local Climate Change Initiatives, District WSIB premiums, Human Rights Initiatives and Member Accessibility funding.
EDUCATIONAL SERVICES $2,910,446     6.0%
Teacher Certification, Mediation Services, Federation Library, Member Training Modules, French Language Committee, Educational Services Committee, Status of Women Committee, Human Rights Committee, Faculty of Education Work Group, Resource Books, and a portion of staff salaries and benefits.
PROTECTIVE SERVICES $10,527,687     21.6%
Protective Services Committee, protective services materials and research, Health and Safety/WSIA, Pension Advisory Work Group, LTD Advisory Work Group, ELHT Advisory Work Group, Grievance Arbitration Module and Member Relations Tracking, Organizing, Legal Costs, Grievances, and a portion of staff salaries and benefits.
COMMUNICATIONS/POLITICAL ACTION $3,617,896     7.4%
Publications including Update and Education Forum, Advertising, Direct Digital Communications to Members, Communications Political Action Committee, political action materials, training and lobbying, Charter for Public Education, coalition memberships, Lobby Day, First Nations, Métis and Inuit Advisory Work Group, Corporate Intrusion in Public Education Task Force, Equity Advisory Mentorship Program, Communications Training, awards and international assistance, and a portion of staff salaries and benefits.
PROVINCIAL MEETINGS/MEMBERSHIPS $5,636,660     11.5%
Annual Meeting (AMPA), Summer Training Workshop, Provincial Council, Conferences, OTF, CLC, and OFL Memberships, OTF Board of Governors, National/International programs, Provincial Office functions, Benevolent Council, Judicial Council, Parliamentary and Constitution Council, Finance Committee, Financial Workshops, Active Retired Members Council, Equity Advisory Work Group, Governance Review Work Group, Subject Associations, Environmental Work Group, New Member Engagement Advisory Work Group, Local Staff and Elected Officials' Working Conditions Work Group, and a portion of staff salaries and benefits.
PROVINCIAL EXECUTIVE $2,120,076     4.3%
Provincial Executive meetings, allowances for affiliations and conventions, field services and expenses, and salaries and benefits for the elected members of the Provincial Executive.
OFFICE OPERATIONS $8,413,821     17.2% 
Provincial office (realty taxes, insurance, utilities, security and repairs and maintenance), Information Services, Telecommunications, Membership Database, Professional fees, General Office Expenses, Secretariat Field Services and Expenses, Staff Training, Translation services, and a portion of staff salaries and benefits.