OSSTF/FEESO shines the light to break the silence on violence against women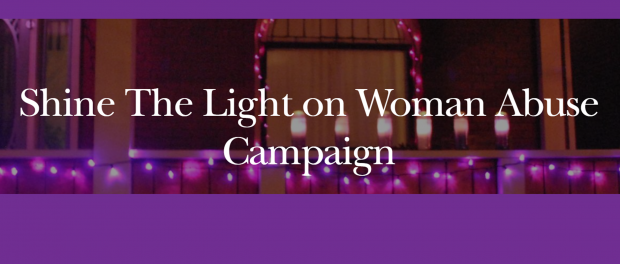 November is Women Abuse Prevention Month in Ontario. Once again, OSSTF/FEESO is proud to take action to Shine the Light on violence against women by men. Our office at 49 Mobile Drive will be visibly supporting this important initiative. During the month of November, the colour purple becomes a symbol of courage, survival and honour, representing the fight to end woman abuse. We encourage our members to Shine the Light in their communities and homes to Shine the Light on men's violence against women.
The Shine the Light campaign, initiated by the London Abused Women's Centre, is focused on building awareness, engaging people in breaking the silence and encouraging all communities to speak out against violence against women. A donation will be made to the campaign resulting from District and Bargaining Unit December 6, 2021 orders of purple lapel pins.
Some dates of importance include:
November 19—OSSTF/FEESO Provincial Councillors will wear purple in solidarity
November 25—International Day for the Elimination of Violence against Women and Day 1 of the 16 Days of Activism against Gender Violence
December 1 to December 7—Commemorative displays in OSSTF/FEESO worksites
December 6—National Day of Remembrance and Action on Violence against Women
December 10—International Human Rights Day
All District and Bargaining Units are encouraged to show support of this campaign by using the colour purple wherever possible. Please demonstrate your support through your local social media accounts. Here are some other ways you can participate:
Wear purple on November 15 (designated wear purple day)
Put a purple LED light bulb on your front porch for the month
Put a commemorative display in your worksite
Use your voice to talk about ending men's violence against women
Use the power of social media to show your support using the hashtags #ShineTheLight #OSSTF  #16Days #EndViolence
Invite a women advocate to your school, work site or social group to talk about men's violence against women
Ask your city to turn local landmarks purple for the month of November
Further information on the campaign can be found here.