Rally for Education: thousands come together to send Ford government a message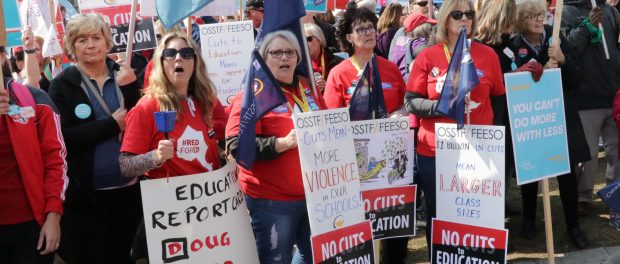 "An event that participants will remember for decades." That's how OSSTF/FEESO President Harvey Bischof described the Rally for Education in Toronto on Saturday, April 6.
Thousands of OSSTF/FEESO members joined members from all of Ontario's education unions, along with members from other unions, students, parents and community members of all stripes for a massive rally at Queen's Park. The crowd overflowed the lawn in front of the legislature, and some estimates put the number of participants at 30,000 or more—much larger than even the rally organizers were anticipating.
They came to denounce the Ford government's plan for devastating cuts to the province's public education system (see "A devastating blow for education in Ontario").
"When you can gather this many people to send a message about what's good for Ontario's students and our future prosperity, that tells you this government should be listening," said Bischof in an interview with CTV News.
In addition to representatives of the education unions, speakers included leaders of the #StudentsSayNo Movement, who just two days earlier had organized a walkout of more than 100,000 students from the province's high schools. Other speakers included representatives of the Canadian Federation of Students, the Ontario Autism Coalition and parents' organizations.
In his remarks, Harvey Bischof raised the possibility that the government is planning to starve the education system in order to lay the groundwork for privatization. You can watch Bischof's complete address here.
By any standards, the Rally for Education was an undeniable success and an impressive show of solidarity between educators, students, parents and the community at large, all in response to a government that seems determined to do irreparable damage to Ontario's public education system. A great deal is at stake, but for OSSTF/FEESO members and other educators, it's clear that we are far from alone in this struggle.
News Coverage
There was substantial news media coverage of the Rally for Education, and in almost every story OSSTF/FEESO's message was prominent and clear. Below are links to coverage, with pertinent quotes from OSSTF/FEESO President Harvey Bischof:
Toronto Star: 
Teachers, students rally at Queen's Park to protest proposed education cuts
From the article:
Ontario Secondary Schools Teachers Federation President Harvey Bischof said six course choices would disappear for every teacher cut out of the system, "so kids are not going to have the choice of the arts, the music, the technology that they have access to right now."
Bischof added that "we share these students' concerns and their frustration at not being listened to by the government.
 "This minister and her government are the ones using students as a smokescreen. Students have a vested interest in their education and are expressing their concerns," he said. "The minister should sit down and listen to their issues instead of dictating what she thinks is best for the next generation of Ontarians.
 "Our message is simple: Our education system needs investment, not cuts."
CityNews:
Teachers rally at Queen's Park over education cuts
OSSTF/FEESO President Harvey Bischof:
 "This government is trying to distract from their education policies by focusing on us instead of the policies themselves. Why don't we focus on the fact that they are slashing teachers from the education system and slashing course options."
"Everyone who relies on Ontario's high-quality graduates, they've come together to tell this government they're going down the wrong road."
 "The reality is, the numbers [of lost teaching positions] are going to be a lot higher [than the numbers suggested by the government]. When the government finally releases the technical papers that would support the announcement they made weeks ago, we'll know the reality."
 "Collective agreements expire at the end of August. We have time to sit down and talk with this government. We will bring forward proposals that are good for Ontario's students and Ontario's future, and we hope that we have a willing partner on the other side of the table."
CP24:
Thousands of educators hold rally outside Queen's Park
OSSTF/FEESO President Harvey Bischof:
"They are talking about taking thousands of teachers out of the education system and that is going to result in enormously enlarged class sizes, large class sizes where kids can't get the individual attention that they get right now. But it also means taking away class choices. Every teacher who is cut out of the system leaves with six class options that they could otherwise give, so kids are not going to have the choice of the arts, the music, the technology that they have access to right now and that lead them to futures that they want to select for themselves."
CTV National:
OSSTF/FEESO President Harvey Bischof:
"When you can gather this many people to send a message about what's good for Ontario's students and our future prosperity, that tells you this government should be listening."
CTV Toronto:
Thousands Protest Ontario Education Cuts
OSSTF/FEESO President Harvey Bischof:
"Cuts hurt kids. They're talking about taking thousands of teachers out of the education system, that's going to result in enormously enlarged class sizes. Large class sizes where kids can't get the individual attention that they get right now."
Global News:
Unions hold rally at Ontario legislature to protest education cuts
 OSSTF/FEESO President Harvey Bischof:
 "The [class size] ratios we have over the last number of years have led to significantly improved graduation rates. We have graduations rates now in the mid to high 80s that were down in the low 60s the last time there was a Conservative government in power."