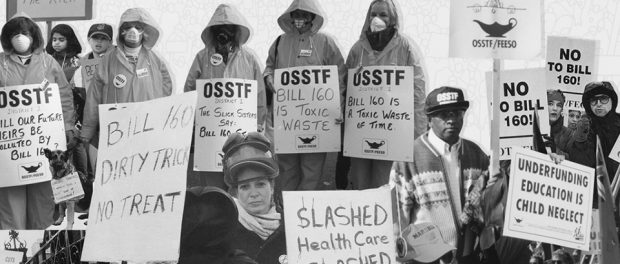 Thoughts on your editorial, "Twenty years later, why commemorate the Bill 160 protest?" [Update 2017-18 Vol. 45, No. 2 ]
I believe the legacy of Bill 160 requires each current OSSTF member to develop a clearer knowledge of what is achieved through collective action. As a retiree, the bulk of my teaching career was sandwiched between Bill 100 and Bill 160.
With Bill 100 legislation in the mid-1970s, I became aware of the need to be active in my OSSTF federation. And with Bill 160, I realized that collective security required solidarity with the broader labour community. As the OSSTF oath says, we must think of each other, but now in a broader labour community frame of reference.
As a member of the provincial political action committee in 1997, the then education minister promised to "create a crisis" (and he did just that), with significant long-term impacts for Ontario's teaching profession, and the broader impacts on Ontario's public education system.
The leadership of OSSTF rose and met the challenges head on. I remember doing the Days of Action protests. I participated proudly in the Ontario-wide shutdown of schools. The membership of today's OSSTF has that legacy to remember, with its bitter memories, and the experiences of collective action.
Today's OSSTF membership must remember the details of those struggles and real sacrifices linked to the legacy of Bill 160. As Stephen Colbert once commented, "There's an old saying about those who forget history. I don't remember it, but it's good."
Paul Hertel
District 9, Greater Essex—ARM (Active Retired Member)