Transparency in bargaining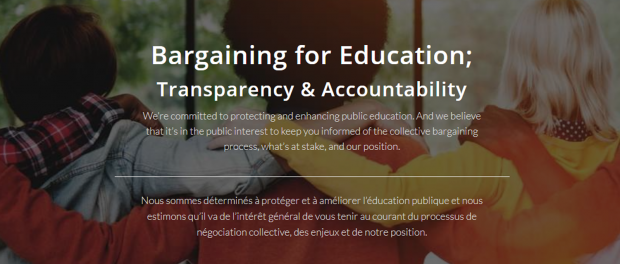 On September 24, OSSTF/FEESO launched an unprecedented approach to bargaining in the school board sector in Ontario. At a press conference at Queen's Park, OSSTF/FEESO President Harvey Bischof announced that the Federation would release its initial negotiating briefs for both the Teacher/Occasional Teacher and Support Staff central bargaining tables.
"The release of our bargaining briefs is just the first step," said Bischof. "Beginning today, we will be making our bargaining process transparent to the public."
OSSTF/FEESO's bargaining proposals focus on creating and sustaining the best possible student learning environment. Proposals include protections against ballooning class sizes and measures to ensure adequate numbers of support staff and proper levels of assistance in our schools, especially for the most vulnerable students. OSSTF/FEESO is also proposing the establishment of a committee of representatives from the Ministry of Education, the Ontario Public School Boards' Association (OPSBA), and the Federation to examine the viability of E-Learning program designs as a substitute for traditional classroom learning.
With regard to compensation, OSSTF/FEESO recognizes that, over longer spans of time, salary increases have tracked inflation. In order to remove what President Bischof called the "endless wrangling over compensation," OSSTF/FEESO is proposing that members receive a Cost of Living Adjustment (COLA) so their real wages would remain constant. "Let's simply end the roller-coaster ride and focus our attentions more productively," said Bischof.
"We are taking this extraordinary step because we are facing extraordinary circumstances," continued Bischof. "With the announcement of cuts that are already diminishing the quality of education in Ontario, this government has publicly leveraged students' educational experience against attempted concessions at the bargaining table. They have also introduced legislation to inappropriately interfere with the scope of negotiations. None of this constitutes good faith bargaining. That's why we're taking a different approach, one that puts transparency at the heart of our negotiations. Our proposals are forward looking. We welcome and encourage the public to look closely at our proposed way forward and compare it to the path proposed by the government and the trustee associations."
On September 30, OSSTF/FEESO representatives met with representatives from the government and OPSBA at the Teacher/Occasional Teacher central bargaining table. On the following day, October 1, Federation representatives met with representatives from the government and the Council of Trustees' Associations at the Support Staff central bargaining table. Negotiating briefs were exchanged at both tables. While OSSTF/FEESO's proposals at both tables focus on the quality of the learning environment for students, the proposals from the management teams ignore student learning and student achievement, and focus instead on removing funding from the system at the expense of students and OSSTF/FEESO members.
The OSSTF/FEESO negotiating briefs and support materials, along with the management teams' briefs, can be found at BargainingForEducation.ca.