Student Achievement Awards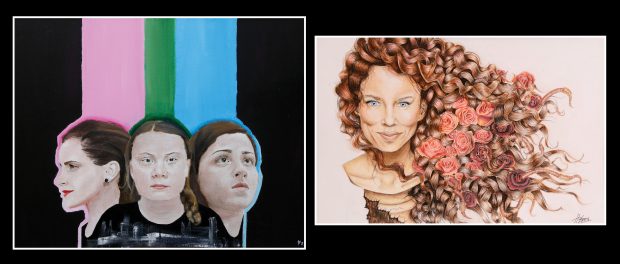 We all know "One Strong Woman." We all have one in our lives. She may be a teacher, mother, best friend or an activist that we have read about. That was the inspiration for the OSSTF/FEESO 2020 Student Achievement Awards. We received submissions from the most remote locales to busy metropolitan centres across Ontario. Whether Writer's Craft or Visual and/or Media Arts, teachers and education workers are using the Student Achievement Awards, in honour of Marion Drysdale, as an essential tool in classrooms to engage all students. This year, our creative artists, whether in visual or digital/media arts, excelled. The OSSTF/FEESO judges had great difficulty choosing a winner in each category.
The nine award winners will be officially honoured at AMPA during a ceremony featuring the traditional video and will be presented with awards of $1,000 each. For a sneak peek at the provincial winners, please read on.
In the Prose and Poetry Division, Diya Verma, of Mayfield Secondary School in Caledon, was the winner of the Intermediate Academic 9–10 category, with an incredibly touching story called Luna. This story highlights the hate turned regret of a mother at the changing identity of her son to a daughter. Diya's story encourages us to love before it is too late and to be compassionate and accepting, even when we do not always understand.
Maria Fernanda Lima Fernandes Reis of John F. Ross Collegiate Vocational Institute in Guelph claimed the Intermediate 9–10 Applied/Essential with her beautiful poem about her mother called Fabiana. Maria, an International Baccalaureate student from Brazil, shares with us the struggles that her mother encountered on her journey to becoming a physician, a mother and a strong role model for Maria. She also cites her teacher, Ms. Taylor in her supporting letter to us, saying that her poem is "in fact, the fruit of three strong women: the one who inspired it, the one who wrote it, and the one [Ms. Taylor] who believed in it."
Brooke Sinclair, a student at Lambton Central Collegiate & Vocational Institute in Petrolia, won in the Senior 11–12 University category for her poem And You Will Sing, inspired by Indigenous singer, Buffy Sainte-Marie. Brooke takes us through Buffy's life, through painful words of the genocide of her people and the forced assimilation of children through the church. The words Brooke uses are strong and powerful and yet, in the end, she marveled at how, despite the pain Buffy felt and has lived through, she sang.
In the 11–12 College/Workplace category, Julie Mak, of Stephen Lewis Secondary School in Thornhill, narrates the loneliness and agony of striving for the perfection of being and becoming a strong woman in The Golden Goose. Julie perfectly illustrates the great effort that many women must make to balance life while striving to be perfect. She shows how letting  go of that false expectation opens up the possibilities for a change from stressful perfection to her realization that "Life should be an enjoyable adventure."
Livvy Blaber, of Gloucester High School in Gloucester, won the category of French Prose and Poetry 9–10, for her poem, Ma definition d'une femme forte—My Definition of a Strong Woman. Livvy writes that she aspires to be a strong woman in the future. Caring, compassion, understanding and strong. She describes the qualities that she believes part of being a strong woman, as seen in the inspiration of her poem, her mentor, Kelley.
The winner of the French Prose and Poetry 11–12, Sophia Andia from Colonel By Secondary School in Gloucester, moved us with her work Une Ode aux Vergetures—An Ode to Stretchmarks. The piece speaks to fretting, as women, about the physical imperfections on our bodies, when we should be amazed at the remarkable things our bodies have done. A woman's strength has made those lines. The writer states, "The strength that flows in a woman's veins is similar to the silk that flows on her skin."
École secondaire Gaétan-Gervais in Oakville is home to Yomna Ismail, whose art piece Arc en ciel du future actuel, depicts three strong young women, each working in different fields, who are the future female change makers in the world. The artist's realistic portrayal of each woman makes them instantly recognizable on a backdrop of the colours of their chosen fields, depicted as a rainbow.
Sarah Hancock, a second time Student Achievement Award winner from Nottawasaga Pines Secondary School in Angus, stunned us again with her artistic excellence. Her piece, A Garden of Support, was the winner of the Senior 11–12 Visual Arts. Meticulously drawn, this piece took over 80 hours of pencil work to create. A woman is depicted as a garden, beautiful with flowers, grounded in the earth but surrounded by parasites that might destroy her. Sarah states that "Misogyny will try to break us, but our roots are strong" and we definitely see that in this piece.
Finally, the winner of the Digital Arts 9–12 category was Issra and Isaac Ali, of Harold M. Brathwaite Secondary School in Brampton, for their original song, Fragrant. This hip-hop piece was recorded, produced and performed by Issra and Isaac and highlights their mother's perseverance over the major trials and tribulations she was faced with growing up in Vietnam. The piece refutes the claim that throughout history, and in some cultures currently, women are subordinate, overly emotional, and weak.