OISE Research Report on Hybrid Learning and Modified Semesters/Quadmesters in Peel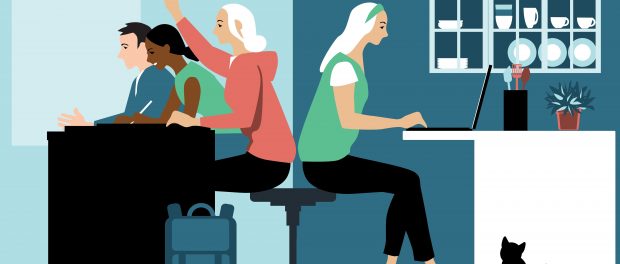 In response to the Peel District School Board's decision to implement hybrid (simultaneous in-person and online instruction) and modified semesters/quadmesters in the fall of 2021, the District 19 Teachers' Bargaining Unit (TBU) launched a multifaceted campaign to push back against hybrid classes and modified semesters in Peel. The campaign included traditional labour-relations dispute resolution mechanisms, but the TBU also encouraged members to tell their stories and provide feedback on the impact of hybrid classrooms and modified semesters/quadmesters. With the consent of members, these were published anonymously on the TBU social media platforms.
Other districts dealing with the implementation of hybrid learning launched similar campaigns as members faced challenges in meeting the needs of students, while dealing with workload issues and burnout.
In the fall of 2021, District 19 TBU reached out to Dr. Carol Campbell, a Professor of Leadership, Higher, and Adult Education at the Ontario Institute for Studies in Education (OISE), University of Toronto to ask if she would be interested in studying the data collected by the TBU. Dr. Campbell was very interested in the data, and proceeded to conduct a research study on the impacts of hybrid learning and modified semesters/quadmesters in the Peel District School Board. Secondary School Teachers' Experiences of Implementing Hybrid Learning and Quadmester Schedules in Peel has been published by OISE and the findings support the position that OSSTF/FEESO District 19 has taken since before the hybrid model was implemented by the Board.
Key Findings of the OISE Report
The responses from 87 teachers identify the following impacts of the hybrid model for teaching and learning:
It is an ineffective and inefficient approach to teaching and learning;
It is challenging to conduct appropriate online student assessments;
There has been increased workload and lack of adequate support to effectively implement the hybrid model;
There were differences in student engagement between in-person and online learners (with online learners being more negatively impacted);
There has been a loss of shared student community;
There has been increasing inequities in students' experiences and in meeting their learning needs;
There were inequities in students' access to, and use of, technology.
With regard to the impact of the quadmester schedule for teachers and students, respondents identified:
Challenges of class time length and quadmester schedule for students' learning experiences;
Difficulties of two and half hour classes for teachers' work;
Difficulties of one-week on, one-week off schedule for teachers' relationships and support for students;
It has exacerbated student inequities and undermined high quality publicly funded education;
The proposal that quadmesters protect students in cohorting is a myth and has had implications for health and safety.
As indicated above, respondents also noted health concerns resulting from the impact of changes to schooling including:
Deteriorating mental health for students and educators;
Negative physical health impacts for teachers' having to teach from front of class during hybrid learning and over two and half hour classes;
Feeling unsafe at school;
Increasing sick leave with implications for covering classes.
Other impacts noted by teacher respondents included significant and serious impacts on their own professional and personal lives, and an increasing number of teachers are considering leaving the profession.
Ryan Harper is the President of the District 19 Peel TBU.