River Run 2022: Walk with Grassy Narrows for Mercury Justice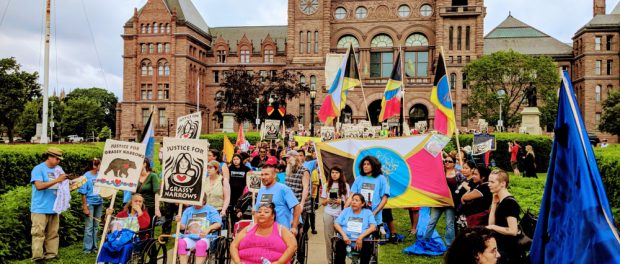 River Run 2022: Walk with Grassy Narrows for Mercury Justice
From July 18 – 23, 2022, 50 members of the Grassy Narrows First Nation will come to Toronto to lead River Run 2022: Walk With Grassy Narrows for Mercury Justice – a week of events in support of Grassy Narrows First Nation and their struggle for clean water and control over their lives and their lands.
The week will culminate in a march that will begin at Queen's Park on July 21, 2022, at 12:00 pm. The march will involve 50 Grassy Narrows community members and leaders who will travel 1,700 km from Grassy Narrows to Toronto to demand that Ontario and Canada:
Compensate everyone in Grassy Narrows fairly for the devastating mercury crisis.
Respect the Grassy Narrows Indigenous Protected Area (end mining and logging plans in Grassy Narrows Territory).
Support Grassy Narrows in restoring their community and way of life from the damage that mercury has done.
OSSTF/FEESO Members are encouraged to register to attend the events in Toronto and to invite their friends and family.
Check out the 'Free Grassy' website and social media pages (Twitter, Facebook, Instagram) for more information.