Violence and Harassment Against Education Sector Workers (2023 Survey)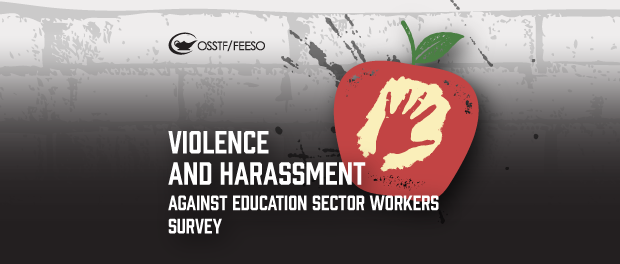 Earlier this year, OSSTF/FEESO encouraged members to participate in a study on workplace violence that the Federation commissioned through a research company called Stratcom. That study is nearing completion and we anticipate releasing its findings in the upcoming months.
Normally, we try to avoid overloading members with too many studies, but the issue of workplace violence is so important and so urgent that we are already encouraging members to take part in another study. The new study is being conducted independently and led by two academics, Chris Bruckert and Darcy Santor. The Bruckert and Santor study has the potential to be the largest of its kind in Ontario's history as a number of other unions are also encouraging their members to participate.
The study is open to all members (including members in post-secondary workplaces as well as K-12 teachers and education workers) and is available in both French and English. Please consider taking a few minutes to complete the survey whether you have directly experienced violence or not. This type of research is essential to raising awareness about violence and advocating for supports and practices that keep you and your colleagues safe.
Click HERE to take the survey.